Zetera SCSI & RAID Devices Driver Download
Posted By admin On 21/11/21
Even if it didn't have NTFS and was using ZFS (not Solaris ZFS, Zetera ZFS) Curtis' plan would still work and solve the Windows 7 compatibility issue. 0 Pure Capsaicin. Jan 28, 2008 'Zetera Z-San Filesystem Within the last 18 months, Zetera, with some sort of input from Dataplow, brought out this proprietary SoIP concept (.) products using this technology have come from Netgear and Bell Microproducts in recent months.'
CA enhances management suite
Computer Associates recently shipped BrightStor r11.5, an integrated set of storage management software modules. BrightStor ArcServe Backup was improved by automating the disk-to-disk and disk-to-disk-to-tape processes, reducing the number of steps required. The company also extended support for 64-bit platforms, as well as for Lotus and SAP on Windows and Linux systems.
Similar to the BrightStor portal is CA's new BrightStor Storage Command Center, which provides a dashboard-like view of storage environments. The software applies business analytics to the information and reports on four main areas of the environment: inventory, capacity, health, and protection. Also, embedded identity and access management capabilities enable administrators to enforce company-wide security policies.
CA extended device support in the BrightStor suite to include EMC Clariion, HP StorageWorks, and Sun StorEdge disk arrays.
For storage resource management (SRM), CA added caching technology that speeds up data collection. The company also lowered capacity licensing minimums from 10TB to 2TB. www.ca.com.
NetApp targets Oracle backup/recovery
Network Appliance is shipping a controlled release of SnapManager for Oracle software, which is designed to simplify backup and recovery of Oracle databases on NetApp's hardware platforms. General availability is slated for January 2006.
SnapManager is based on NetApp's disk-based Snapshot technology and is integrated with Oracle Automatic Storage Management software. Snap-Manager turns a multi-step backup-and-restore process into two commands. NetApp also claims that data can be restored within one minute with no impact to database performance. SnapManager for Oracle automates the cloning of Oracle databases by leveraging NetApp's FlexClone technology, which is included in the Data ONTAP 7G operating system software. www.netapp.com.
NuView ships D2D recovery tool
NuView's Data on Demand Manager (DDM) is a>
MessageStats for traffic analysis and reporting;
Archive Manager for Exchange for managing mailboxes and archiving; and
Recovery Manager for Exchange, which discovers and recovers message-level items.
Pricing for Storage Suite for Exchange starts at $40 per managed mailbox. To download the software, visit http://wm.quest.com/products/storagesuiteexchange.
DataCore enables iSCSI remote boot
DataCore Software and emBoot introduced a solution that allows administrators to remotely boot Windows servers off an iSCSI-based IP SAN using standard Ethernet cards. The combination uses DataCore's SANmelody or SANsymphony software along with emBoot's netBoot/i software and eliminates the need for local, internal disk drives.
Two main benefits of the solution involve disaster-recovery improvements and cost savings. The combo enables administrators to "emergency-boot" a server from the SAN if a physical boot fails. Cost savings are realized from simplified management derived from diskless remote booting.
If a system crash occurs, the application server's BIOS can boot from a SANmelody or SANsymphony-based IP SAN's virtual boot disk, eliminating the need for local, internal disk drives and host adapters. Administrators create a snapshot of a single netBoot/i boot volume and copy the volume to multiple iSCSI targets, so that when needed they can boot from the IP SAN and be operational in minutes.
Since administrators create a snapshot of a single netBoot/i boot volume and then copy the volume to multiple iSCSI targets, servers and their storage devices can be available in minutes. netBoot/i has been tested on VMware Workstation, GSX, and ESX servers, as well as with Microsoft's Virtual PC and Virtual Server.
DataCore claims to lower operating costs through centralized data consolidation and enabling assignment of blade servers to remote applications. By booting servers from the SAN, storage management and provisioning is simplified by separating operating system data from the hardware, eliminating the need for a boot disk on the server or on a blade.
Features of the DataCore-emBoot combo include diskless network boot of Windows operating systems; boot from a shared volume; network boot to iSCSI targets from within VMware and Microsoft Virtual PC virtual machines; support for CHAP authentication; and system snapshot tool for copying local boot volume to iSCSI target. www.datacore.com.
StoneFly ships low-cost IP SAN
Breaking the $10,000 price barrier, StoneFly Networks' ValueSAN is based on the company's Storage Concentrator i3000 array, which provides block-level provisioning and centralized management and monitoring of logical storage volumes. The system scales to 19.2TB per node and includes synchronous mirroring and snapshots. Optional upgrades include integration with StoneFly's Backup Advantage turnkey IP SAN with backup/recovery software and Replicator CDP software for application-aware continuous data protection.
An entry-level ValueSAN configuration is priced at $8,995 and includes two Storage Concentrator i3000 disk arrays with 960GB of capacity, snapshot and synchronous mirroring software, virtualization, and management software. www.stonefly.com.
JMR enters IP SAN market
Designed in collaboration with Intel, JMR Electronics' Z-IPSAN is based on iSCSI and includes 16 hot-swap Serial ATA (SATA) disk drives for 8TB of capacity per 3U enclosure. The array supports RAID 0, 1, 5, 10, and 50. In addition to dual Gigabit Ethernet connections for IP SANs, the system is available with optional 2Gbps Fibre Channel connections. An entry-level configuration with 750GB is priced at $14,000.
Software features of the Z-IPSAN include thin provisioning (pay-as-you-grow capacity allocation), clustering between multiple Z-IPSAN arrays, replication, automated snapshots, and disaster-recovery capabilities. www.jmr.com.
Chelsio claims 400,000 IOPS
Chelsio Communications' new iSCSI target stack software, in conjunction with its iSCSI adapters, delivers more than 400,000 I/Os per second (IOPS), according to company claims.
Chelsio sells chips, such as the Terminator ASIC, to OEMs, as well as adapters to end users, OEMs, and integrators. The adapters include the quad-port Gigabit Ethernet T204 and single-port 10Gbps Ethernet T210. Both adapters include the Terminator ASIC, iSCSI accelerators, TCP/IP offload engines (TOEs), and support for PCI-X systems. Both the controllers and adapters come with iSCSI target-mode support.
Company officials say that a number of applications can benefit from high-speed iSCSI, such as video streaming (e.g., postproduction environments), image processing, backup, and point-to-point replication over WANs.
To achieve its IOPS performance numbers, Chelsio used a quad-port Gigabit Ethernet T204 adapter in a link-aggregated configuration in an iSCSI target mode server with dual 2.4GHz Opteron processors, iSCSI target stack, and a RAM disk. The target mode server was connected to 16 Windows 2003 servers with Microsoft iSCSI initiators. The test relied on Intel's Iometer benchmark tool for measuring 512-byte initiator reads and writes. Chelsio officials claim that the T204 adapters delivered bandwidth of up to 3.9Gbps with less than 20% CPU overhead using standard 1,500-byte Ethernet frames.
The iSCSI target stack comes with the T204 and T210 adapters and is now available for Linux.
A single-port, 10Gbps T210-CX copper adapter is priced at $1,695, while a quad-port, Gigabit Ethernet copper adapter lists for $1,495. www.chelsio.com.
Netgear launches SoIP
Netgear's Storage Central is the first commercial offering of Zetera's Z-SAN Storage-over-IP (SoIP) technology. While Storage Central is targeted primarily at the consumer and SOHO markets, both Bell Microproducts and StorCase are expected to introduce similar products for SMBs next month. (Rather than making its own hardware, Zetera licenses its technology to storage and network equipment vendors.)
Zetera's technology uses the standard IP transport, but does not rely on iSCSI or Fibre Channel protocols. Z-SAN eliminates the need for physical transport gateways and disk controllers, which can be costly and can create bottlenecks and single points of failure. Z-SAN virtualizes storage at the IP layer, disaggregates physical drives into multiple virtual partitions, and creates virtual drives that span multiple physical drives.
According to Zetera officials, instead of striping data across disk drives in a RAID controller, Z-SAN swipes data across disk drives through a switch. It can scale to hundreds of drives without being limited by the number of ports on a RAID controller or the number of expansion modules. Z-SAN can theoretically scale up to 128 petabytes.
Users can plug additional arrays into the switch and use management software to assign the extra capacity. Users can carve out a partition and name it, and then it shows up to the operating system as a local drive, although it's actually connected over the network. Users can also add new storage space to an existing drive without rebooting. The technology on the switch keeps track of where the disk drives are and what their IP addresses are, and then virtualizes all of them as a single volume.
Netgear Storage Central costs $129 without drives. www.netgear.com and www.zetera.com.
Quantum adds SDLT/LTO libraries
Quantum recently began shipments of the PX500 series tape libraries, which includes the PX502, PX506, and PX510. The products feature SDLT 600, LTO-2, or LTO-3 drive/media technologies. The PX502 (7.6TB to 15.2TB of native capacity) is designed primarily for workgroups and departments; the PX506 (20TB to 40TB) for large workgroups and data centers; and the PX510 (40TB to 80TB) for data centers. When compared to Quantum's P7000, the company claims the PX510 offers 600% higher density at a price point of $1 per gigabyte vs. $5 per gigabyte.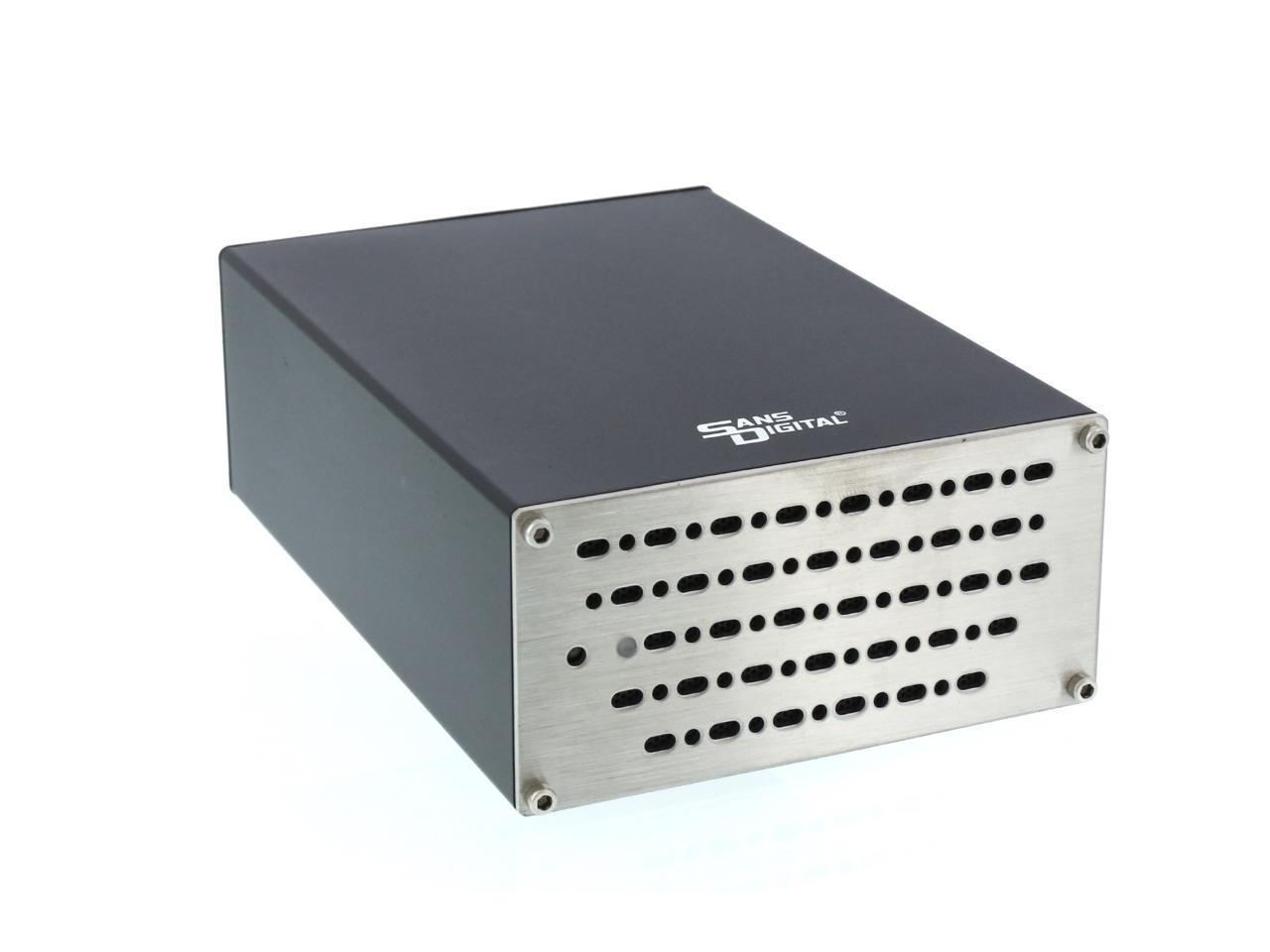 Click here to enlarge image
The PX500 series will replace Quantum's M-series libraries (M1500, M1800, and M2500). The PX500 line has common hardware and firmware so users can mix and match the libraries in any combination. The tape libraries feature Quantum's FlexLink Scalable Library Architecture, so when two or more units are joined together the bottom unit's robot reaches up into the unit above it, enabling cartridges to be exchanged between libraries. Previously, users had to buy an external robot, or elevator, to move tape cartridges from one chassis to another. Additional hardware and cabling are not needed for aggregation. A Web-based management console allows administrators to manage the units either separately or as a single library. www.quantum.com.
Anthology NAS includes LAN switch
Anthology Solutions' P400T Yellow Machine is a 1TB (expandable to 2TB) NAS appliance that includes an 8-port LAN switch and WAN router, built-in double firewall (NAT and SPI), secure Internet gateway, automated backup, custom ASICs, and support for RAID 0, 1, 1+0, and 5. MSRP is $1,499. www.anthologysolutions.com.
MaxTronic ships SATA II RAID
The Janus series of RAID arrays from Arena-MaxTronic is based on the SATA II specification and includes an Intel i80331 processor, dual Flash ROM components on each controller, up to 7.5TB of capacity with 16 SATA drives, Ultra320 SCSI or 2Gbps Fibre Channel host interfaces, and up to 2GB of cache memory in a 3U form factor. In addition to all traditional RAID levels, the Janus series (models 6640 and 6641) supports RAID 6 (to protect from two drive failures), RAID TP (triple parity, which provides protection for up to three drive failures), and NRAID. Optional software includes Pathguard MPIO, which provides multiple paths to each drive, I/O path fail-over and fallback, and dynamic I/O load balancing. www.maxtronic.com.
Spectra debuts entry-level library
Spectra Logic's S50 tape library has up to 40TB of capacity (50 LTO tape cartridges) in a 4U (seven inches) form factor and can scale to a throughput rate of 576GB per hour. The library is rack-mountable and can be configured with up to four LTO-2 half-height drives or two LTO-3 full-height drives.
LTO-3 tape cartridges provide write-once, read-many (WORM) capability. External connection options include Fibre Channel or SCSI. Pricing starts at $9,500. www.spectralogic.com.
Tandberg targets SMB backup/recovery
Tandberg Data's InteliStor is a backup/recovery appliance that integrates the company's InteliNAS filer (which is based on Windows Storage Server 2003), StorageLoader LTO2 tape autoloader or 420LTO tape drive, and Symantec's Backup Exec software. The 1U disk-to-disk-to-tape (D2D2T) appliance comes in three capacities: 480GB, 1TB, or 1.6TB. Pricing ranges from $5,999 to $12,500, depending on capacity. www.inostor.com.
Fujifilm adds Super DLTtape II
Zetera Scsi Drive
Fuji Photo Film U.S.A.'s Fujifilm-branded Super DLTtape II tape cartridges are designed for use with Quantum's SDLT 600 tape drives and provide a native capacity of 300GB and support for drive-transfer rates of up to 36MBps. When coupled with Quantum's DLTIce technology, the cartridges can be turned into WORM cartridges. www.fujifilm.com/tapestorage.
This article was originally published on October 01, 2005
Zetera Scsi Adapter
Zetera Scsi Device